Ultimo aggiornamento Venerdì 29 Marzo 2013 02:12 Martedì 08 Gennaio 2013 00:00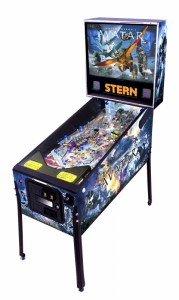 IFPA Italia is happy to announce the next Italian Pinball Championship (IPC2013), that will take place in Limena (PD) onl Saturday and Sunday April 6th and 7th 2013.The event includes  the Main and the Classic tournaments. They are described in details on Tournament Rules (Here). The main tournament will have a round-robin format where all players will be devided in groups of 4 players that will change every two games. Nobody will be eliminated until the end of the qualifying session taht will take place on Saturday April 6th 2013. The top 24 qualifiers will move on to the finals on Sunday April 7th. The Classic will be played on 4 machines,with the qualifying session on Saturday nightafter the main tournament qualifying session. The best 12 qualifiers will play the finals on Sunday morning.
Registration limit is set to 64 players. egistration fee is 10 Euro that will give you the opportunity to play both tournaments. Registration link is above.
We will use 20 pinballs for the main tournamentand 4 for the Classic. We will also have various machines in free-play in a designated area. Both tournament are eligeble for WPPR.


Program
Saturday April 6th:
9.00/9.30: registration
9.30: Start qualifying Main tournament
12.30/13.30: lunche break
13.30/19.30: ending qualifying Main tournament
19.30/23.00: qualifying Classic tournament
Sunday April 7th:
9.30/12.00: Finals Classic tournament
12.00/13.00: Lunch break
13.00/18.00: Finals Main tournament
18.00: Awards


Where are we?
The place is situated on via Zonta 5, Limena (PD). It is very close to teh highway exit Padova OVEST, from where you keep going north for 1 km (Follow Bassano del Grappa). Via Zonta is on the righ side.


Accomodations


- IFPA Italia obtained an agreement with hotel Sereno in Sarmeola di Rubano (www.hotelserenopadova.it). Saying that you are partecipating to IPC, the rooms have these rates:
- Single: 35 Euro
- Double: 50 Euro
- Triple: 70 Euro
Children up to 10 years old will have 50% discount. The rates include the rooms, buffet breakfast, free wifi connection, parking and taxes.
- Another agreement has been made with thel Best Western Premier galileo Padova, that is a SPA center (sauna, turkish bath, Mediterranean bath, emotional showers, relaxation rooms) and hydrodynamic Pool. Vast parking lot, big and confortable rooms and in the morning rich buffet breakfast.
DOBLE ROOM

WITH BUFFET BREKFAST
PARKING
INTERNET WI-FI
ENTRY  SPA!!!!
€. 75.00
€. 3.00 TAX per person per day
DOUBLE ROOM SINGLE USE

WITH BUFFET BREKFAST
PARKING
INTERNET WI-FI
ENTRY  SPA!!!!
€. 65.00
€. 3.00 TAX per person per day
More details on www.hotelgalileopadova.it
Rates will be recognized only to players or friends partecipating to the event.When you book need to mention the IPC  – Limena 2013.
The closer hotels to the Campionato Italiano di Flipperare:
- Crowne Plaza. Hotel 4 stars at 200 metri. Info at the website: www.crowneplazapadova.it
- Hotel Valbrenta. Hotel 3 stelle at 1 km. Info at the website: www.hotelvalbrenta.com
- If someone want to save some money and he is very easygoing, it is possible to spend the night in the place, bringing with a sleeping bag and a inflatable matress 
You can contact us for any issue or question at the email addressl: Questo indirizzo e-mail è protetto dallo spam bot. Abilita Javascript per vederlo.


Registered Players

1 Loris Trevisan
2 Matteo Filippin
3 Nicola Pierobon
4 Mauro Spiga
5 Davide Della Ianna
6 Victor Machart (FRA)
7 Stefano Biondelli
8 Philippe Bergs (FRA)
9 Nathalie Bergs (FRA)
10 Marco Guidolin
11 Daniela Clerici
12 Jörg Schwegmann
13 Stefano Guidolin
14 Paolo Luise
15 Matteo Pontarollo
16 Giorgio De Stefani
17 Manuel Cereda
18 Roberto Pedroni
19 Fabio Gravina
20 Cesare D'atri
21 Giuseppe Violante
22 Claudio Melone
23 Marino Milan
24 Mauro Favaretto
25 Nicola Miglioranza
26 Alberto Olivero
27 Eros Mantovani
28 Gabriele Bragotto
29 Alessandro Cacialli
30 Aldo Mostacchi
31 Andreas Weiblen
32 Gianluca Gasparetto
33 Aldo Pancaldi
34 Jürgen Letzel
35 Valentino Trere'
36 Alessio Crisantemi
37 Alberto Fabrissin
38 Mirko Plumari
39 Erika Pucino
40 Daniele Baldan
41 Francesco Tramontano
42 Andrea Fantuzzi
43 Fabrizio Canetta
44 Massimo Maffi
45 Daniele Barile
46 Mario Anzini
47 Mauro Boscolo
48

...
64

Per maggiori informazioni contattare:
 
Fax: (+39)
Email:
Foto dell'EPC 2014 di RIMINI